Tailor-made Gift – Loose Leaf Tea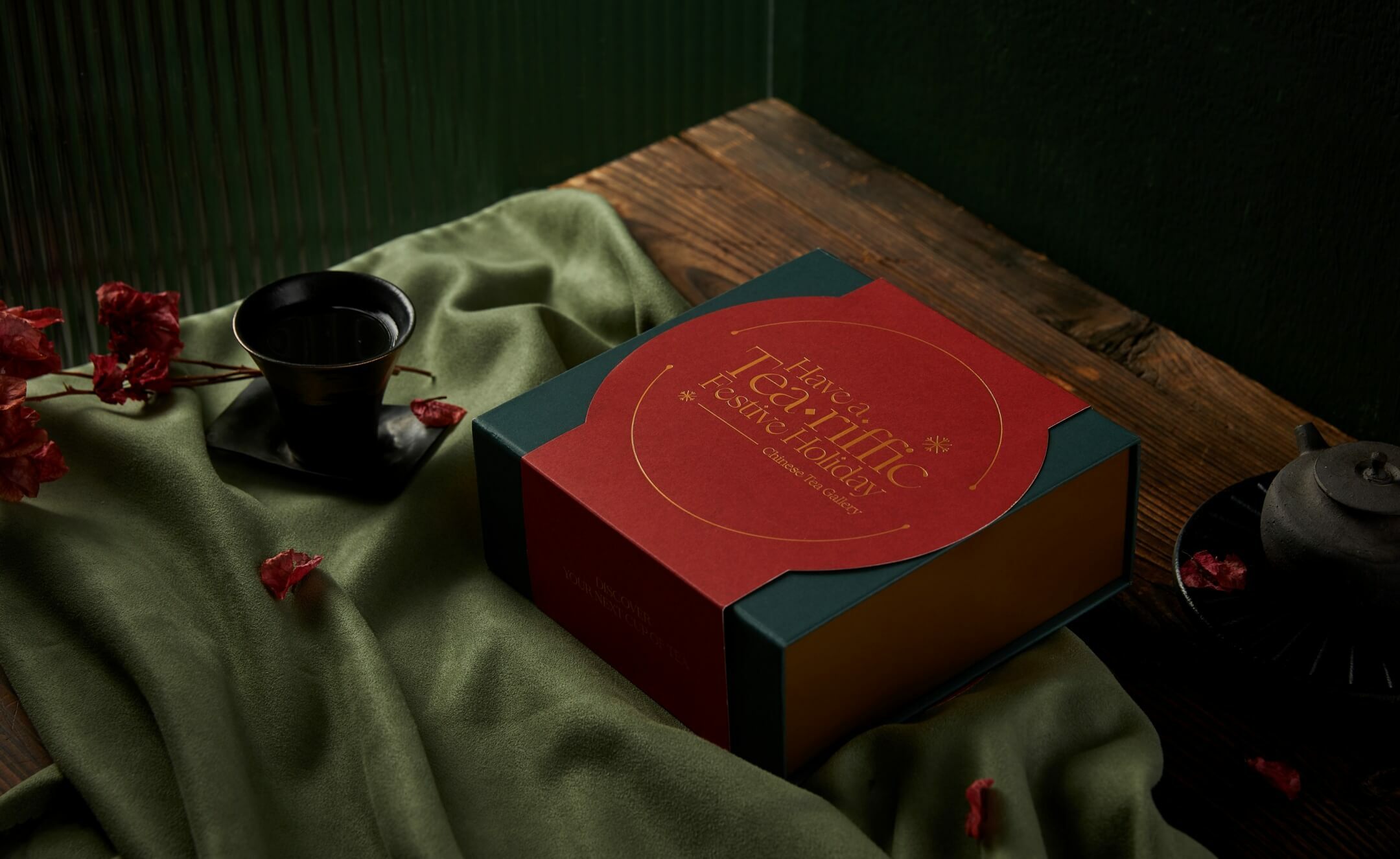 Designed in Taiwan, the art utilizes circles and squares to describe a new element: combining eastern and western culture, which represent Tea-riffic Gift is a gift of tea variety, different cultures of tea can be paired with each other. We want to express a message that everyone has the freedom to choose their own taste.
The colour of Tea-riffic Gift adopts a professional and textured non-traditional design, reason is drinking tea often reminds us of traditions, so we try to move away of the old-fashion and understands different tea cultures aside from China.
Tea-riffic Gift has a magnet mechanism to properly seal the gift. When opening the gift box, there have brewing method instructions inside the gift.
We will allocate the tea card according to the type of tea you choose, each card has light and strong brewing methods, the text will be presented in both English and traditional Chinese.
The bottom of the tea gift box is made of Expandable Polyethylene to ensure that the four cans of tea of ​​your choice will be safe from scratch.
Tea-riffic Tins – Notify us to add a gift box upon checkout
Upon checkout, there has an option "Add to Cart" below the items that you placed an order. If you would like to add a gift box, please purchase a gift box to let us know for the add-on.
Customizable selection of four loose-leaf tea tins for a unique and personalized present. Each tin has a transparent lid so that tea leaves are visible to see, and there also have a label for each tin to let tea-lovers know the name of the tea for each tin.
Tea Gift - Intellectual Series
This gift series is designed for all intellectual ladies who favour tea sachets. The stylish design takes account of ladies that want to brew tea during work, staycations, vacations, or travelling, so that ladies can bring the brightly coloured cylinder tins with ease while can match their noble and elegant persona.
"Classic & Timeless Aroma" Collection: Designed for the timeless moment through the classic tea flavour. In terms of presentation, it is combined with geometric lines and teal colour, expressing an idea of value, and attitude towards life.
A quote is embedded, "Be honest. Be authentic. Be Tea-riffic", means to be honest and be the best of yourself.
"A Modern Twist Aroma" series: Designed for a mix of floral or fruity tea flavours to elevate tea aroma to another level. A quote is embedded, "Take a seat. Take a sip. Enjoy the flavourful adventure", means that the majority lives in a "social clock" to accept set of norms that governs their life events. Even though the reality is so, but do not forget to live a colourful life like an adventure.
Tea gifts - FAQ
How to brew Summer Delight Mocktail?
a) Put Peach Oolong leaves into the tea pot and pour 200ml hot water in it for 1 ~2 minutes.
b) Stir the apple juice and brown sugar well in the glass
c) Add ice cubes, peach oolong tea (after filled) into the glass, then stir them well.
d) Add a slice of lemon and apple slices as décor.
A refreshing drink that everyone will enjoy having a taste, peach is a dynamic fruit that can go with apple juice that gives a natural fermented sour taste, while peach' sweet taste of freshness will balance it all.
Why chose Japanese Green Tea in Tea-riffic Gift?
Japanese green tea utilizes steaming technique to process tea, and thus often have a vegetal kind of taste, the steaming process is like a "Slow-cooking" which takes time to slowly make green tea raises its flavour.
Compared to Chinese green tea, the aroma is strong, but the taste is mildly light. If we compare the degree of richness and aroma, Chinese Tea Gallery' tea choices will be better as a tea gift because the flavour and appearance of the tea is charming.
How many Tea Sachets can the Intellectual series contains?
Each container can contain 15 tea sachets, a gift of elegance. Each sachet weighted around 5 grams that full of whole leaves and can be brewed couple times to sip it again.
Will there have more varieties of the Intellectual series?
There will have more varieties as we can produce it as tea sachets. If there have particular types of tea you want us to produce in the future, let us know, and we will try our best to be our next priority!
Can the container of Intellectual series replace with different types of tea?
We don't recommend containing several types of tea into the same container because tea is sensitive to all kinds of flavour, mix them up together will then damage the original rich flavour.
Which sets are seasonal tea gifts?
We had a gift which contains both candles and tea to add a touch of romantic vibe last year. This year we launched Spring season tea choices, and "Blend your Tea Gift Set" so that tea-lovers can do mix & match using 3 ingredients, and a base of Pu'Er or Oolong tea.